郭涛就孵化器和大学生创业问题接受中国日报社21世纪英文报记者赵芳雪(Zhao Fangxue)采访,详见中国日报社21世纪英文报1155期(2016年5月18日出版 Incubators hit hard times)。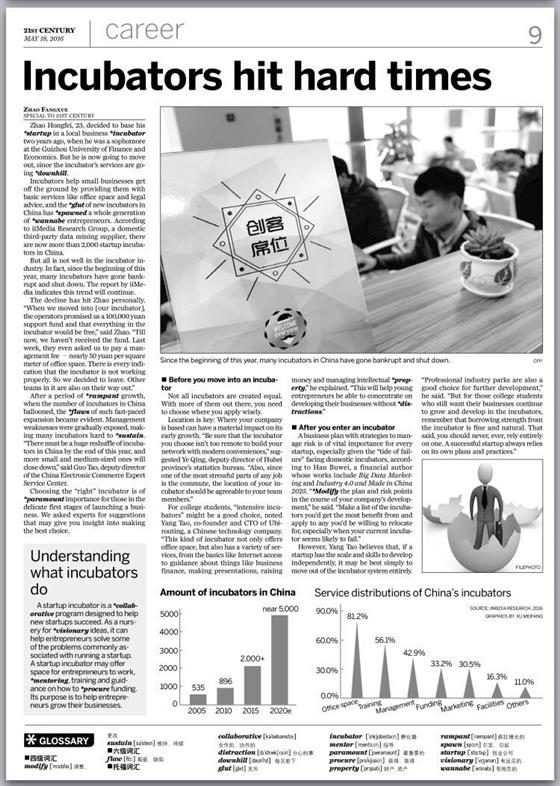 Incubators hit hard times
Zhao Fangxue
Special to 21st century
Zhao Hongfei, 23, decided to base his*startup in a local business *incubator two years ago, when he was a sophomoreat the Guizhou University of Finance and Economics. But he is now going to moveout, since the incubator's services are going *downhill.
Incubators help small businesses get offthe ground by providing them with basic services like office space and legaladvice, and the *glut of new incubators in China has *spawned a wholegeneration of *wannabe entrepreneurs. According to iiMedia Research Group, adomestic third-party data mining supplier, there are now more than 2,000startup incubators in China.
But all is not well in the incubatorindustry. In fact, since the beginning of this year, many incubators have gonebankrupt and shut down. The report by iiMedia indicates this trend willcontinue.
The decline has hit Zhao personally. "Whenwe moved into [our incubator], the operators promised us a 100,000 yuan supportfund and that everything in the incubator would be free," said Zhao. "Till now,we haven't received the fund. Last week, they even asked us to pay a managementfee – nearly 50 yuan per square meter of office space. There is everyindication that the incubator is not working properly. So we decided to leave.Other teams in it are also on their way out."
After a period of *rampant growth, when thenumber of incubators in China ballooned, the *flaws of such fast-pacedexpansion became evident. Management weaknesses were gradually exposed, makingmany incubators hard to *sustain. "There must be a huge reshuffle of incubatorsin China by the end of this year, and more small and medium-sized ones willclose down," said Guo Tao, deputy director of the China Electronic CommerceExpert Service Center.
(大意为:目前中国的孵化器经过一段时间井喷式的增长,管理的弱点逐步暴漏出来,服务器将面临巨大的洗牌,中小型及无特色的孵化器将很难生存下来,今年年底前将有众多的孵化器关门或停业....)
Choosing the "right" incubator is of *paramountimportance for those in the delicate first stages of launching a business. Weasked experts for suggestions that may give you insight into making the bestchoice.
 Before you moveinto an incubator
Not all incubators are created equal. Withmore of them out there, you need to choose where you apply wisely.
Location is key: Where your company isbased can have a material impact on its early growth. "Be sure that theincubator you choose isn't too remote to build your network with modernconveniences," suggested Ye Qing, deputy director of Hubei province'sstatistics bureau. "Also, since one of the most stressful parts of any job isthe commute, the location of your incubator should be agreeable to your teammembers."
For college students, "intensiveincubators" might be a good choice, noted Yang Tao, co-founder and CTO ofUbirouting, a Chinese technology company. "This kind of incubator not onlyoffers office space, but also has a variety of services, from the basics likeInternet access to guidance about things like business finance, makingpresentations, raising money and managing intellectual *property," heexplained. "This will help young entrepreneurs be able to concentrate ondeveloping their businesses without *distractions."
 After you enter an incubator
A business plan with strategies to managerisk is of vital importance for every startup, especially given the "tide offailure" facing domestic incubators, according to Han Buwei, a financial authorwhose works include Big Data Marketing and Industry 4.0 and Made in China 2025."*Modify the plan and risk points in the course of your company's development,"he said. "Make a list of the incubators you'd get the most benefit from andapply to any you'd be willing to relocate for, especially when your currentincubator seems likely to fail."
However, Yang Tao believes that, if astartup has the scale and skills to develop independently, it may be bestsimply to move out of the incubator system entirely. "Professional industryparks are also a good choice for further development," he said. "But for thosecollege students who still want their businesses continue to grow and developin the incubators, remember that borrowing strength from the incubator is fineand natural. That said, you should never, ever, rely entirely on one. Asuccessful startup always relies on its own plans and practices."
Understanding what incubators do
A startup incubator is a *collaborativeprogram designed to help new startups succeed. As a nursery for *visionaryideas, it can help entrepreneurs solve some of the problems commonly associatedwith running a startup. A startup incubator may offer space for entrepreneursto work, *mentoring, training and guidance on how to *procure funding. Itspurpose is to help entrepreneurs grow their businesses.